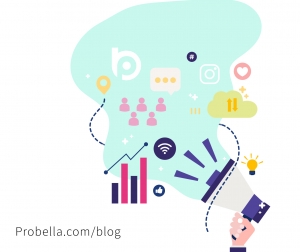 As one of the major platforms to help create the now well-established phenomenon of "the influencer" Instagram has been a key part of many company's marketing strategies for several years. As the photo sharing behemoth continues to grow and evolve, so do its users. With the addition of live streaming, video content and the "story" feature, marketing professionals have the opportunity to get creative in the way they interact with their followers. From live streaming product launches to interactive photo competitions, there's so much more to Instagram marketing in 2019 than just sharing pictures. This is our guide on how to make the world's most famous photo sharing platform work for you and your business.
Hashtags Are Your Friend
Quality content is your first priority but ensuring people can find it is essential, too. Just like SEO for your website, choosing the right keywords for your hashtags means that your potential followers will be able to find you easily. Try to split up your tags into categories if you can. Some general, industry-specific keywords such as "digital marketing" or "plumbing supplies" are always useful, but creating your own branded hashtag can also help you to stand out amongst the crowd. A good mix of regularly used tags and more esoteric or specific ones is generally a good approach, but pay close attention to what other accounts are using, too.
Live Streaming is everywhere, should you use it?
As usual, the answer depends on your situation. A product launch that involves interactive marketing, performance or another kind of content that users can engage with will generally do very well as a live stream, a static shot of your office going about their daily chores will most likely not. Try to be selective with what you stream. Many influencers lose followers for constantly streaming without having any real content to display. Live unboxing, product reviews, and interviews usually generate a lot of interest, especially if you remind your followers when and where these events will be taking place. Rants, unplanned walkabouts and other unstructured content can be effective in certain situations but too much of it will seem unprofessional and even a little desperate. Planning is key and like all content, live streams will perform differently at different times of the day. Try to engage with your users when they're at their most active. Finally, offering a live chat option encourages even more interaction and can also be a good way to gauge how many people are watching.
Paid Instagram Adverts Work
It isn't always the cheapest option, but with so many users scrolling through their pages on a daily basis, Instagram has become one of the most effective places to advertise in the world. Though this may be well out of your budget range, if your business is at a stage where you have a decent sized marketing fund, it is definitely worth considering a paid advert that links back to your own page. Production values need to be very high and image quality must be second to none. Videos are becoming increasingly popular and the most watched clips are ones that demonstrate an understanding of quality content as well as having a direct and easy to understand the call to action. Though it won't be an option for everybody, this is a great way of boosting your brand's presence in a short space of time.
Don't be afraid of influencers
Though they may split opinions in some circles, it seems like influencers are here to stay for the foreseeable future and as their name suggests, they are one of the most powerful groups when it comes to establishing brand awareness. The majority of people who spend time online as influencers also have other jobs. That means they're usually genuinely grateful for any products or freebies your throw their way. Choose carefully and don't just look at their number of followers. The unscrupulous practice of buying fake followers is commonplace. Try to identify people who have real, human supporters who enjoy watching their content. Identify users who would already have an interest in your brand and offer them something that they can benefit from using. More often than not, providing your product is up to standard, you will receive a glowing, positive review followed by a slew of new subscribers. As with any new strategy, caution is advised and you will need to be on the lookout for people trying to take advantage of your free giveaways or promotions. Generally speaking, influencers aren't out to cause your business harm as they also have their own reputation to consider, but to ensure that you choose your potential candidates carefully.
Connect With Charities, Companies, and Organisations That Represent Your Brand Values
It could be the manufacturer of your favorite hot sauce or the patron of an international charity, but there will be a number of accounts out there that are representative of your brand values. If you're an edgy new street food chain, establishing links with bands, celebrity chefs and food channels can be a fantastic way to show your customers what you're about. Similarly, a more conservative company, perhaps involved in the public sector, may like to link with local charities or public figures who are known for philanthropy. The key is to be selective. Endorsing everybody and everything will rarely get you anywhere but striking up a relationship with somebody in the same sector can be beneficial for both of you.
It goes without saying that the quality of your images and videos should always be of a good standard, but in 2019, you need to be doing so much more than just posting high res snaps of the things you have for sale. Embrace the galaxy of new features that instagram offers and pay attention to trends. If you get the balance right, this platform can be one of the most effective ways of growing your brand with a small amount of well-curated content.